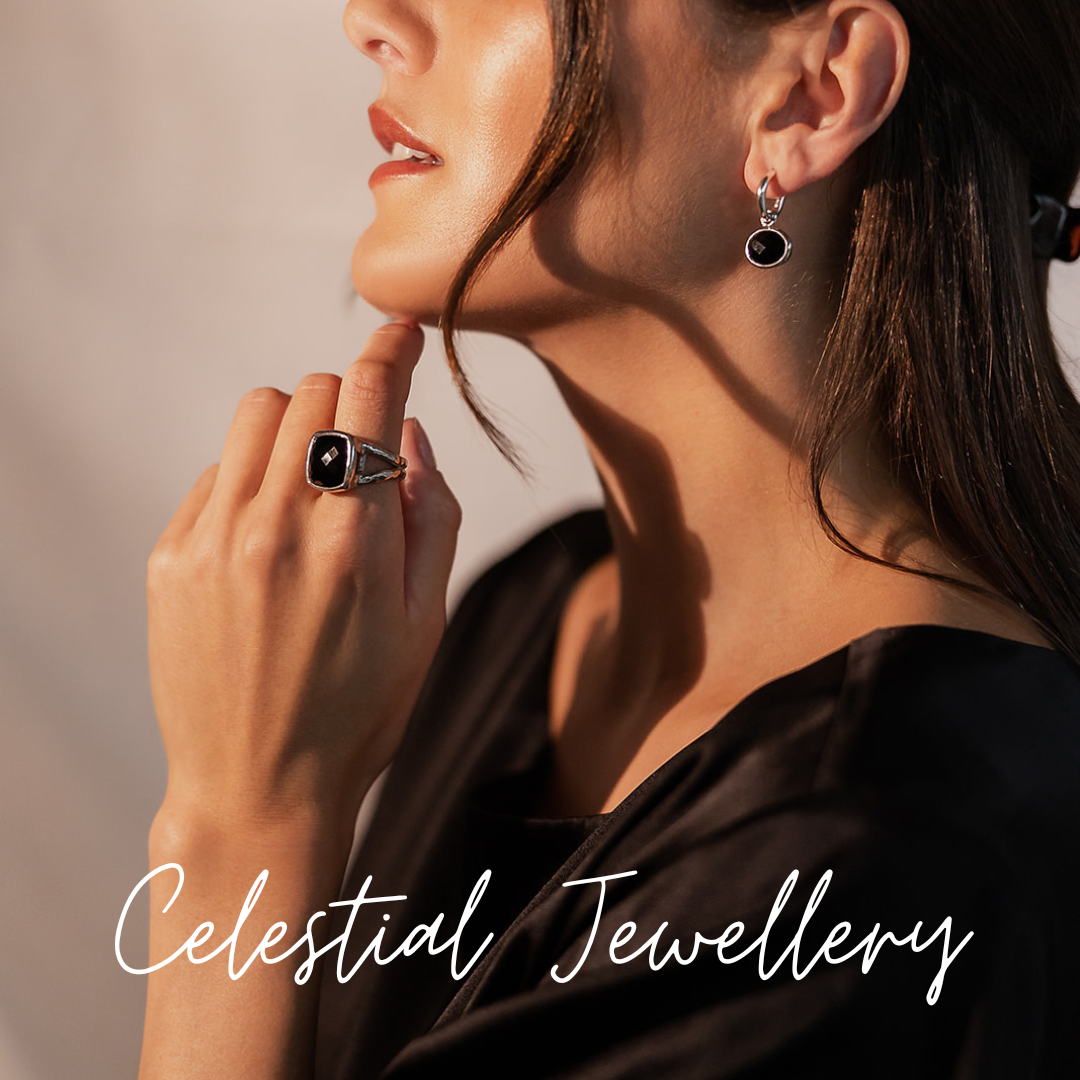 The stars have aligned for us to bring you our hand picked collection of Celestial Jewellery, a trend we believe is here to stay.  Moons and stars have always featured in our collection since day one, the idea of collecting jewellery as talismans that have sentimental value has always appealed to us. Being able to wear a piece of jewellery that can help guide us through our everyday lives like our semi precious stones can bring us so much joy and warmth.
Semi precious stones stones have been used for thousands of years in jewellery but not just because they sparkle and look pretty. The healing properties of these stones are said to bring us a multitude of life enhancing qualities. For our Celestial Collection we have chosen Black Onyx, Black Tourmaline, Labradorite and Lapis Lazuli. For a stand out piece that will go with your whole wardrobe if you love black like me is our Onyx Iris Ring -  Black Onyx is an opaque, solid black gemstone that represents will power. Let it all go with this powerful stone that will always protect you. For wisdom and truth Lapis Lazuli is one of the most sought after stones in use since man's history began. Its deep, celestial blue remains the symbol of royalty and honour, wear our Lapis Lazuli Zeta Ring for everyday ring stacking.
Stars symbolise purity and good luck, a charm I will rarely be seen without. My mum wears the 9 Carat Gold Star Charm everyday, my bangles are always adorned in the charms too and my bestie loves to wear our Star Jump Hoops. 
As for the moon, who doesn't love the cycle of our fascinating moon! The slithers of light, the beaming bright sphere that hangs above us - from our Crescent Moon to our Luna Moon we have a shape to suit you. Our best seller Crescent Moon and Star Necklace makes a beautiful gift.
---